THE ORIENTAL VILLAGE CHIANGMAI
The Oriental Village ChiangMai
INTRODUCTION
The Oriental Village Chiangmai"A Simply Charming Resort of Thailand"
Visit the Web Site at www.orientalvillage-chiangmai.com
We introduced the concept of "A Simply Charming Resort of Thailand and Adventure tour base in Chiangmai"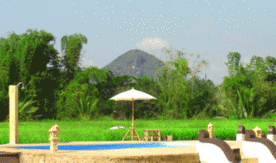 CONCEPT OF THE NATURE LODGE

Once in your life to visit the place that consisting with the nature, culture and traditional, the place where you can get and exciting with the best adventure activities in region. The Oriental Village Chiangmai we offer the best relaxation and comfortable place for your holiday, the base for your adventure destination, the place where you can feel the touch of the nature and local way of life. The Oriental Village Chiangmai, here you will get a real feeling of holiday and a great way to relax with local life style.
Interestingly, our idea will offer real demand that our guests are looking for:

- To feel something different - Something can not be feel at home.
- To be apart of somewhere - Be apart of a different environment and culture of the place being visited.
- To avoid touristy place or something not nature - Avoid tourism that is not sustainable or Eco-friendly in nature.
- To feel a real sense of holiday - Be enjoy as much comfort as possible whilst holiday within a reasonable budget
The Oriental Village ChiangMai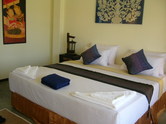 We offer a Simply Charming accommodation
12 Cottages in local style decoration - comfortable bed with Balinese style bathroom loose stone floors/rock garden
1 Restaurant- Offer a delicious dishes and drinks can service up to 30 people.
Hotel Facilities- Outdoor Swimming Pool, Mini fitness, Spa and Massaage, Bike Reantal on area around the resort with the natural atmosphere, where the guest can feel the touch of nature life with comfortable and safe place.
We offer a great service: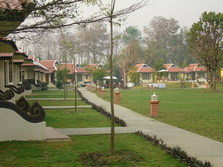 1. Paddy Field Restaurant & Bar - A restaurant seats 30 consisting of dinner tables and Thai traditional dinner tables (Khun Tok), and overlooks the mountain view and Paddy Fields. A real test of Thai food and special Northern Thai dishes to offer our guest here.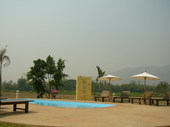 2. An Oriental cooking school - Learn and cook Thai food and special jungle dishes in a nature atmosphere, and pick fresh product from our own vegetable and herb garden. Cook your own dishes and then have a leisurely meal in the nature place, or learn academic cooking class for your own business.

3. An organic farm and herbal sauna - Our organic farm we plant many types of local vegetables and herb by avoiding chemical. The farm supplies most of the vegetables used in our restaurant and some for sell in local market. Herbal sauna, we used a great local knowledge of herbal to treat for good health for our client.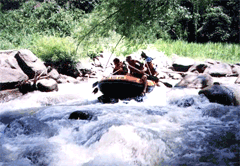 4. Private BBQ dinner - on request we will arrange for a private BBQ dinner for your family and friends.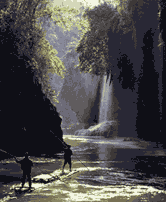 5. Mountain Design Tour Service - we also designed a range of new and interesting "Excursion Tour" and adventure activities such as Trekking, rafting, mountain biking, Rock Climbing, 4 WD and more with a certified adventure guide to offer our guest.

Your design trip - to our guest those who like to created some activities to fit in their holiday, It is a great idea to do so just discuss with us to creating a great activities for your great holiday at The Oriental Village ChiangMai